Nyumburu Cultural Center
Scholarship Donation!
Newsbreak
Every Wednesday, 11:50 A.M - 12:50 P.M.
Multipurpose Room
Homecoming Juke Joint
Wednesday, October 11th, 7:00 P.M
Grand Ballroom, STAMP Student Union
BFSA & Nyumburu Annual Homecoming Fish Fry
Thursday, October 12th
Faculty, Staff & Students

11:30 am to 2:00 pm
Tickets on Sale at Eventbrite
Homecoming Tail Gate
Saturday, October 14th
Nyumburu Multipurpose Room, Nyumburu Pavilion, and Nyumburu Amphitheater.
11:00 am to 9:00 pm
46th Annual Miss. Unity Scholarship Pageant
Sunday, November 12th
HOFF Theater STAMP Student Union
6:00pm to 8:00pm
Doors Open at 5:30pm
Pre-KWANZAA Celebration
Wednesday, December 6th
Nyumburu Multipurpose Room
5:30 pm to 7:00 pm
DINNER – Entertainment
Nyumburu Black Graduation Ceremony
Monday, December 11th, 2023 at 6:30 P.M.
Location: Stamp Student Union Colony Ball Room
Nyumburu Black Graduation Ceremony
Dear Fall 2023 Graduates,
We are thrilled to extend a warm and heartfelt invitation to you, our esteemed graduates, to join us in a special ceremony celebrating your graduation from the University of Maryland (UMD). Your journey of commitment, hard work, and resilience has led to this remarkable milestone, and it's time to honor your achievements.
Ceremony Details:
Date: Monday, December 11th, 2023
Time: 6:30 p.m.
Venue: Adele Stamp Student Union Colony Ballroom
As you walk across the stage, we will honor you with a Kente Stole, Alumni Pin, Nyumburu Pen, and Certificate, symbolizing your accomplishments and the beginning of a new chapter in your life.
Registration:
To participate in this momentous event, please REGISTER by clicking on the following link: REGISTER and complete the registration form by Tuesday, December 5th.
Ticket Collection:
Dates: December 5th to December 8th, 2023
Time: 10:00 a.m. to 4:00 p.m.
Location: Nyumburu Cultural Center
Note: Each graduate will receive three tickets - one for themselves and two for guests.
This graduation signifies your entry into a distinguished group of UMD alumni. Your journey, marked by determination and perseverance, fills us with pride. We are excited to celebrate this momentous occasion with you and look forward to creating unforgettable memories.
Congratulations once again on your well-earned achievement. We hope this ceremony will be a cherished memory for years to come. Remember, you will always be a part of the Nyumburu family, and we eagerly anticipate hearing about your future successes.
For any inquiries regarding the ceremony, please feel free to contact me at carswell@umd.edu or (301) 314 - 7759.
We look forward to celebrating with you.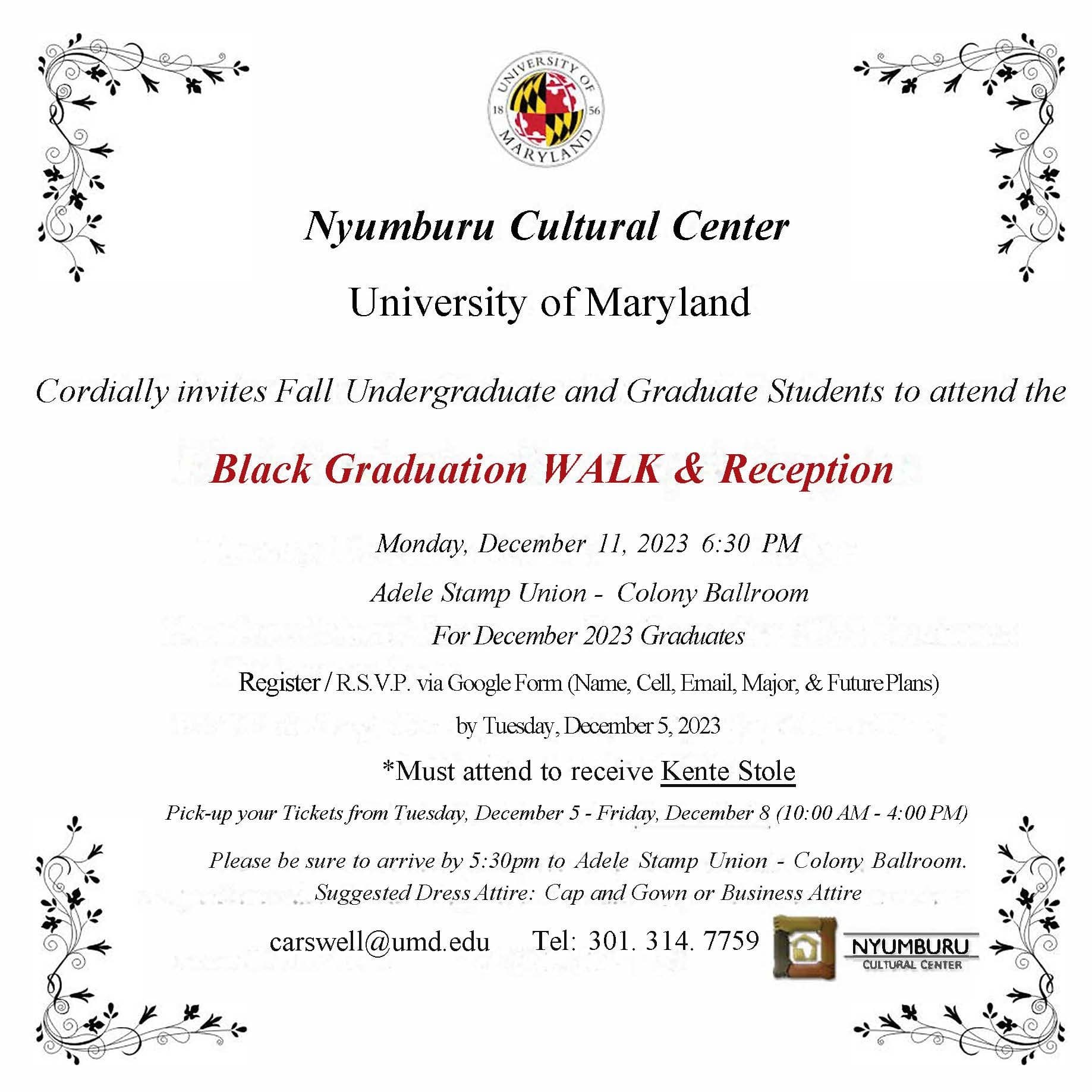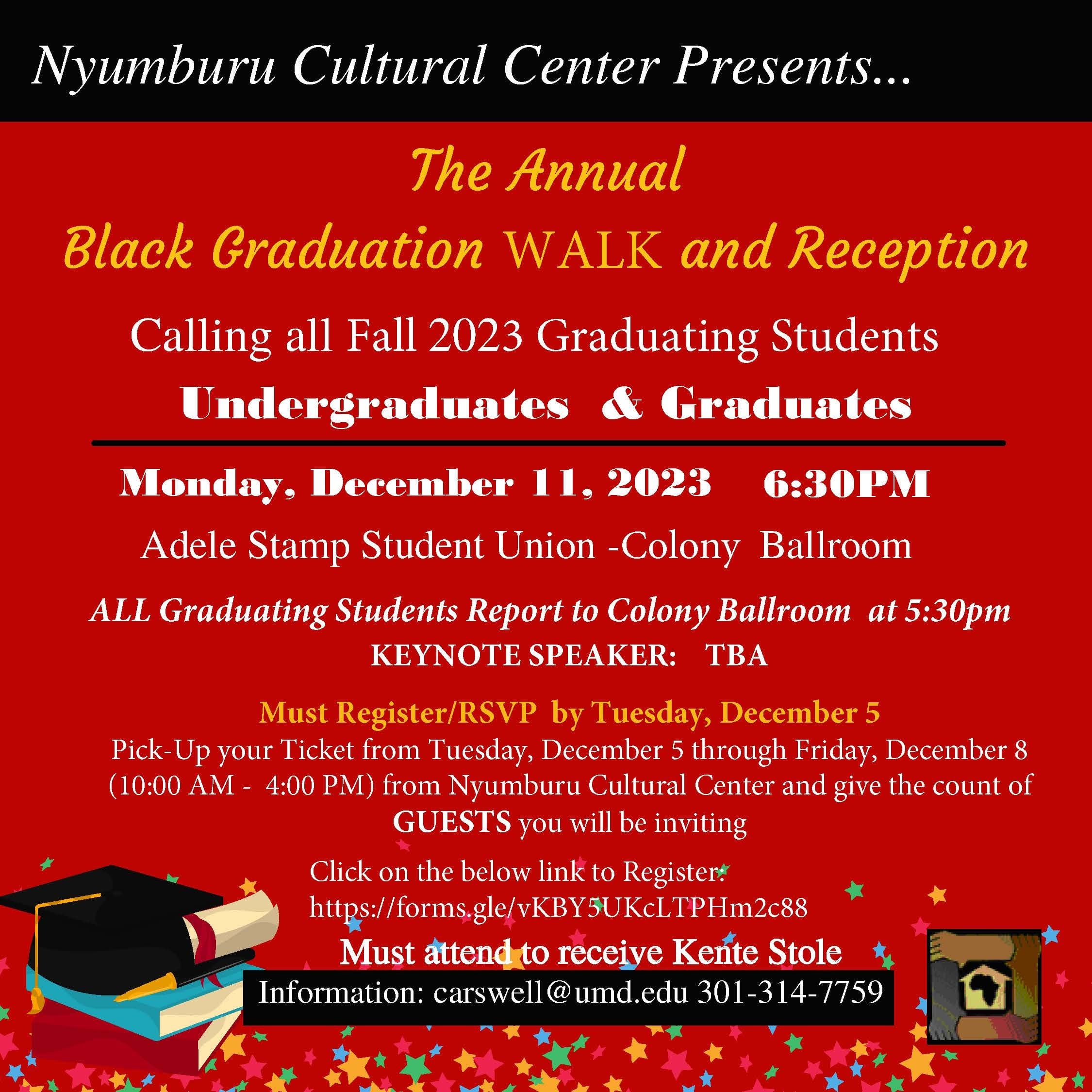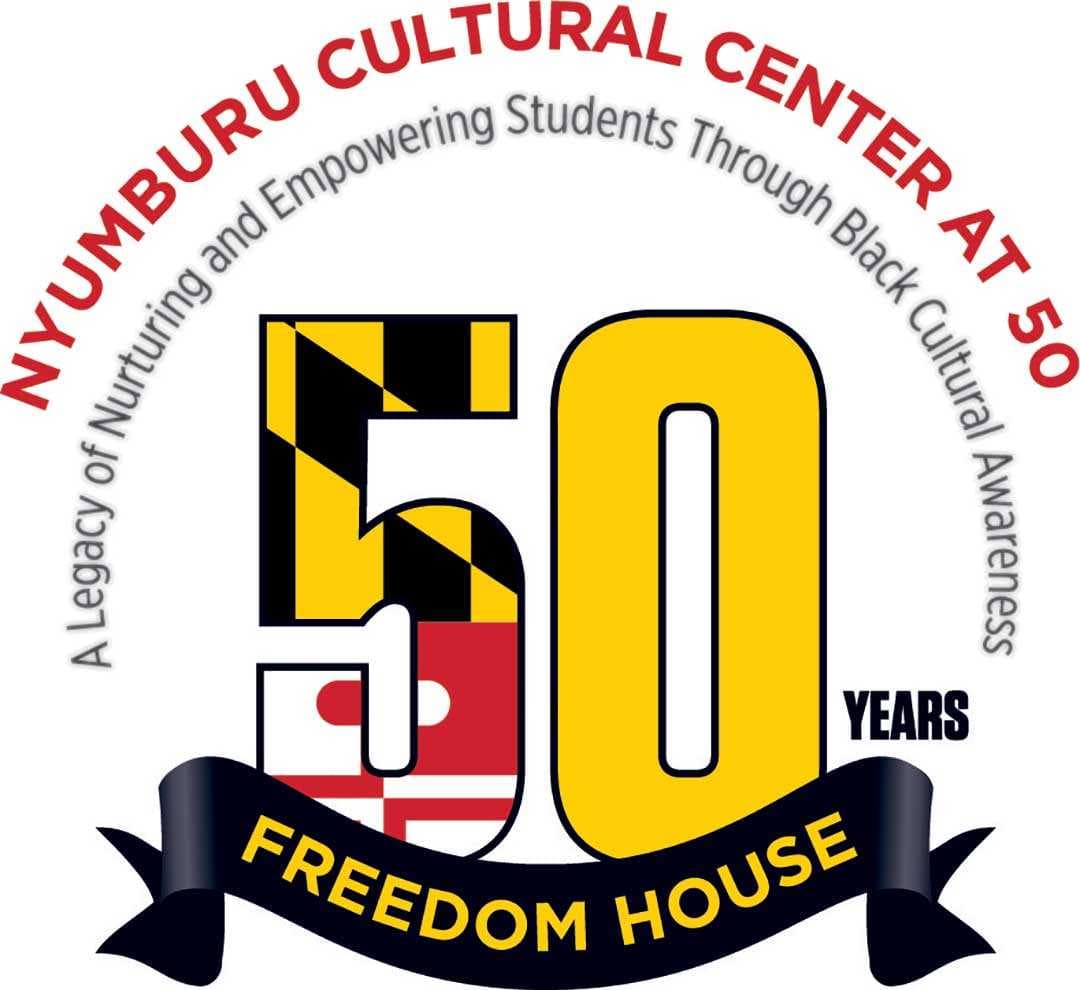 Black Graduation Ceremony and Reception
Thursday, May 11th, 2023
Location: Stamp Student Union, Grand Ballroom
6:30 pm
Nyumburu Cultural Center
Nyumburu is our word for "freedom house", from the Swahili words "nyumba"(house) and "uhuru" (freedom). The Nyumburu Cultural Center has served the UM community since 1971 and continues to build on its foundations as the Center for black social, cultural and intellectual interaction. Nyumburu's productions and activities include lectures and seminars, art exhibits, workshops in the dramatic arts, dance, music and creative writing. Academic courses in blues, jazz, gospel music performance and creative writing are also offered.

We are dedicated to advancing and augmenting the academic and multicultural missions of the university by presenting a forum for scholarly exchange, as well as artistic engagement via the rich culture and history of the African Diaspora.